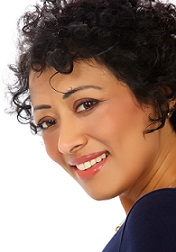 About being a doctor and an artist….
Gita Vasa is my artist name. My real name is very much associated with my primary profession of being a doctor in Radiation Oncology and more complicated to pronounce ;-).  I live and work in the beautiful City of Berlin, Germany.
I had always thought that Medicine was my calling, but my heart was passionately beating for another specialty all through- fine arts.
I have been painting and drawing for as far I can think back. As a child, I used to admire the botanical drawings of my older cousins and sit for hours, admiring them. I remember trying to copy those complicated drawings at the tender age of six.
My father a doctor himself, saw arts as a nice way of being creative but nothing to go for as a profession in life. His influence in medicine was rather strong- I even looked over my father's shoulder during a surgical operation at the age of 12!
Art has always inspired me, and I was attracted to colors and paints like a bee to a flower. Every spare minute was spent to paint and draw. It was and is the best addiction I could ever have.
As an auto didact, I have taken part in umpteen number of courses and classes in the past years. I was an art student of the late Professor Daoud Anad for many years. He taught me various techniques in the lovely and scenic city of Potsdam, Germany. Later, my art work got a dramatic boost by the superb online art classes taught by the professional South African Maestro artists Dennis Clark and Nolan Clark. Currently, the number of hours I spent on self-teaching surely exceeds the duration of a university course. Artists, in general, inspire me and each encounter deepens my knowledge.
My paintings are influenced by my deep love and endless craving for nature and animals and I like to be more on the realistic side in my paintings. All mediums fascinate me, even though I have some favorite mediums, which I use more often. I think it is such a pity to stick to one medium. The modern world offers fascinating products! I am thankful for being fortunate to buy the colors and canvases necessary for creating good quality art work.
So, let me invite you to sit back with a cup of tea and stroll through my website and get inspired!
Don't forget to leave a comment in the comment section. It keeps me motivated and inspires me to be creative.